letters
Kersh Family
(1861-1864)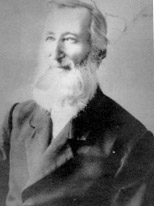 Adam W. Kersh was born on November 16, 1828, in Wise Hollow, near Centerville, Augusta County, Virginia. He made his living as a cabinet and furniture maker, working out of a woodworking shop on the farm he shared in Augusta County with his brother, George P. Kersh. At the age of 33, after failing to find a paid substitute to serve for him, Kersh enlisted in Company F of the 52nd Virginia on July 31, 1861. Kersh served in this regiment until the end of the war, except for a five-month period in 1864 when he escaped from service and hid at home in an attic. George P. Kersh also served in the 20th Virginia Cavalry.
---
The following links provide access to the most likely matches in the Valley of the Shadow databases:
Adam W. Kersh
George P. Kersh
---
This collection mostly consists of letters from Adam W. Kersh to his brother, George P. Kersh, about his life while in the Confederate military service. In his letters to his brother, Kersh portrays himself as a dutiful soldier and complains very little about his service. Other correspondents in this collection include Kersh's niece, Josephine, and soldiers Silas Jones and R. F. Misner.